We interviewed José Ramón González, Sales Director of Fendt Spain, who details the company's strategic lines, which include the pursuit of growth, with solutions for all areas of agriculture, but also innovation and the provision of high quality and durable technology. .
By Marga López, food journalist
For AGCO/Fendt, this year 2022 is a year with many launches and recognitions, even if it continues to be a complicated exercise. What assessment do you make?
As you say, for us, as for the rest of the companies, it gets complicated. Many factors affect the business as we know it, as the global geopolitical situation affects all markets. Specifically, in our industry, supply chains have been affected, but I think AGCO/Fendt has been able to react to these situations by creating plans where we always put our customers first, in order to offer them the best possible service. At the same time, we have pursued our very marked and defined strategy of betting on the highest technology in order to position ourselves as leaders in this segment. And thanks to this, the market rewards us and we receive rewards and recognitions that are a source of pride for us. It is the success of a project, but also the starting point for continuing to move forward.
In this sense, at the end of August we announced the launch of new products: a new combine harvester, the Fendt Corus 500, for a different customer profile, with a smaller surface area; the new Fendt Katana 850, forage choppers with more than 800 HP; the seventh generation of the Fendt 700 Vario; new features of the Fendt Rogator 600 self-propelled sprayer; also new additions to the IDEAL series of large Fendt combines; new range of combine harvesters; new generation of macro presses; the Fendt Former 14055 PRO, the largest four-rotor rake; new models of the Fendt Slicer 860 rear mower range; and automated processes for Fendt Rotana round balers.
We can also say that, in a short time, we will be able to put a 100 hp electric tractor on the market. It is a machine with semi-standard dimensions, for a very particular job, for very specific needs. With this launch, we will become the first to market a tractor with these characteristics.
What is the customer profile sought by Fendt?
More than the customer profile, I like to talk about the type of surface management of a farm. That's to say, fendt has the appropriate machinery for all types of work within a farm, where the farmer seeks maximum profitability with the work of his entire fleet. And that's where FendtONE comes in, a digital solution that lets you manage and organize machine work in the field, as well as plan and document your work from the office.
Regarding FendtONE, this scanning system was introduced in 2020, where is it now?
It is a digital package that accompanies the new generations of tractors that we present and is divided into two areas: FendtONE Offboard, which is the digital solution to easily organize and document the specific work of the farm and completes the driving FendtONE Onboard position, which was the one introduced in 2020. From now on, FendtONE Offboard will be rolled out successively and new features will be continuously added according to current customer needs.
The great success of FendtONE is that we are adapting the working environment in the field to the tactile and digital world to which we are accustomed, also contributing with this connectivity from the office to the field to better planning and knowledge of our own farm and our machinery.
Will you continue to move towards this digitization?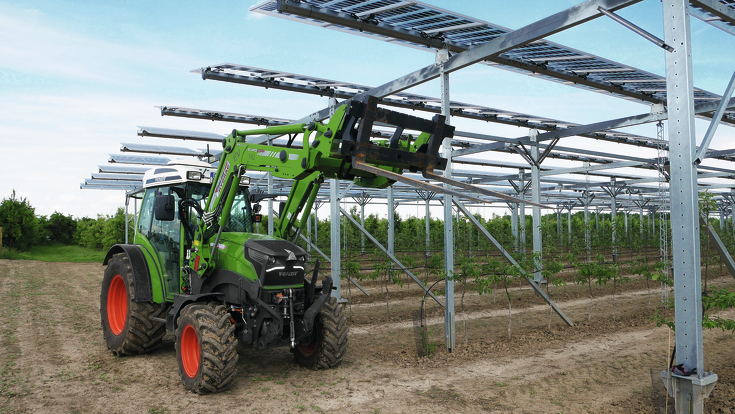 Exactly, that's the idea. It's not something static, but it will be in continuous development, as it will also be a point of connection with our customers. This is undoubtedly an important step in fendtand our strategic axes are moving in this direction.
How can such digitalization contribute to increased sustainability, cost savings and energy efficiency?
Our farmers have always prioritized cost containment and this has been one of the successes of fendt. Our machines contribute to controlling costs, thanks to the high profitability of vehicles throughout their life, thus achieving a profitable investment from the moment of purchase. And now digitization helps us much more. We talk about the costs, but our machines also contribute to the benefits. More and more, the farmer has to make higher profits, and for that he has to be very clear about the costs of the farm, and with FendtONE he can have this information, not only during the working time of the machine, but also from the office. , since it provides data on how to optimize the work, what consumption it has had, how long it has worked… In addition, it helps to improve the traceability of products and it is an added value, c This is a guarantee that your product has gone through certain stages tending to a better control of these. In short, it's a plus of Fendt machines.
You talked about the strategic axes, what will we see at AGCO/Fendt in the medium term?
Fendt has been very clear, since its inception, on its aspiration to be the brand with the most complete solution offer for the farmer. It was born in 1930 as a brand of tractors focused on the European market. It is now a global machinery manufacturer, making tractors for the world, combines, balers, telehandlers, seed drills, forwarders, etc. This global vision of the brand in the world contributes to the knowledge and improvement of the products of fendt. And we have this same global vision in Spain.
This year, we are going to launch the telescopic machines of fendt for the first time in Spain. For three years they have been marketing in Europe with great success, and now they are reaching the Iberian market. They are very focused on a very professional customer with high demand, maybe it's a smaller volume of customers, but it's in our philosophy to meet everyone's demands.
Likewise, within our strategic lines, the dealer network plays a very important role. They fulfill an essential function and showed it during the confinement, when they continued to serve our customers. Our dealer network has a very high and demanding level of preparation on the part of the brand, but also on the part of customers, always looking for the best. They are the key to success and growth fendt. For this reason, our strategic plans include improving the dealer network and providing the best service through them to our customers.