Monday, October 10, 2022 | 4:30
About 90 kilometers from Posadas, in the municipality of Azara (in the south of the province, in the department of Apóstoles), a group of producers comes together and shares their experiences to improve the productivity of their cattle herds. Although there is a long tradition of cattle breeding in the region, now, with the arrival of young people trained in other towns and producers who dare to innovate, there are new expectations. Part of this change can be seen in the increased number and integration of races such as Brangus, Brahman and Braford into the region.
The calves receive food and all the care of the family.
With the monitoring and assistance of Inta, the Ministry of Agriculture and Production, the Municipality of Azara, the Institute for Agro-Industrial Development and other organizations, they aim to increase the added value they can have in their farms.
One of these producers, young and new to the municipality, is Alexis Fernández (32), who moved with his family to his farm about two years ago. On his 100 hectare property, he started breeding with some Creole cattle. Then, with the addition of more feeding options on the property, he added some Colorado Brangus heifers. The animals were separated in the farm of the Creoles, to be able to provide more special care.
"I breed and I have divided the production into two modules. On the one hand, the general rodeo and I have another sector with 29 animals, including cows, heifers, bulls and calves," commented the young producer.
Alexis is from Gobernador Virasoro, he recalled that a timely investment from his father allowed him to settle in Azara and set up his own project.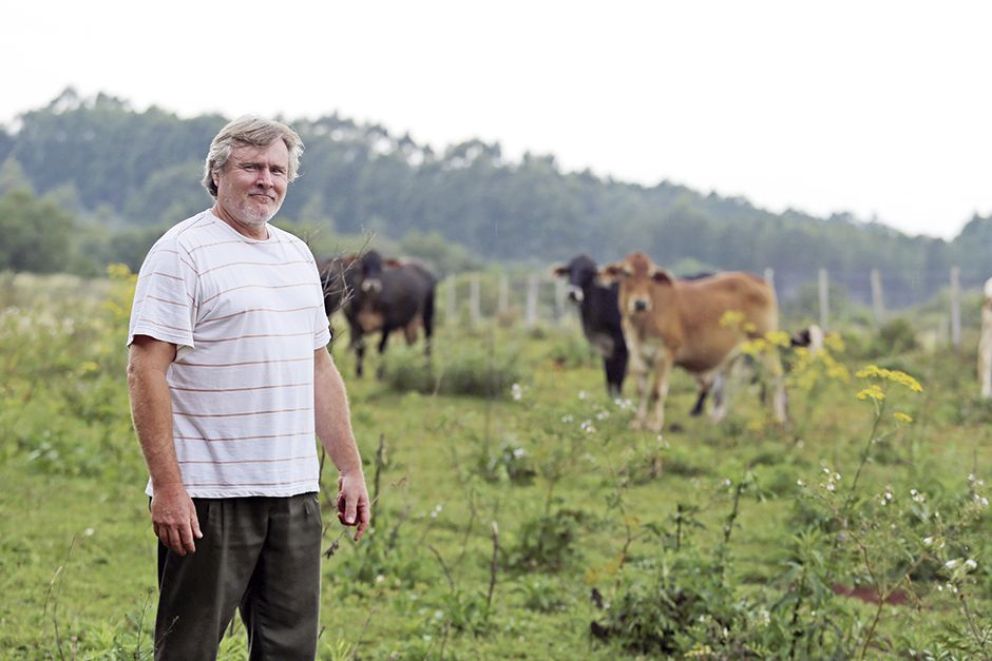 Carlos Markiewicz aims to fatten steers for sale in the region.
"I have always loved breeding and now that I have been able to settle here with my family, I devote my efforts to it. I incorporated genetics with Brangus breed cows and I have a bull that is a Colorado Brahman," he explained.
To promote breeding, he recognized that it is essential to have more food resources on the ground. After initially starting with a historic drought in recent years, he felt he had been able to try forages that were able to withstand the lack of rain.
"The drought that's been going on for about three years has affected us quite a bit, we've tried to get around that with supplementation in the winter, we've planted some oats, there's some grazing and we're in the process of improve," he said.
He commented, meanwhile, that so far "the problem is the fodder, it cannot be given to all the animals, so you have to select those who need it the most. In the latter case, they were those who were about to give birth.
On the occasion of showing his land to the press, he explained that he had attended in recent weeks the birth of the first calves of his Brangus heifers. "Some are already born in July and I have a heifer that will give birth these days," he said.
Regarding the work with the calves, which are the animals to be generated for sale to third parties, he stressed that he plans to carry out a sustainable management, taking great care of the mothers.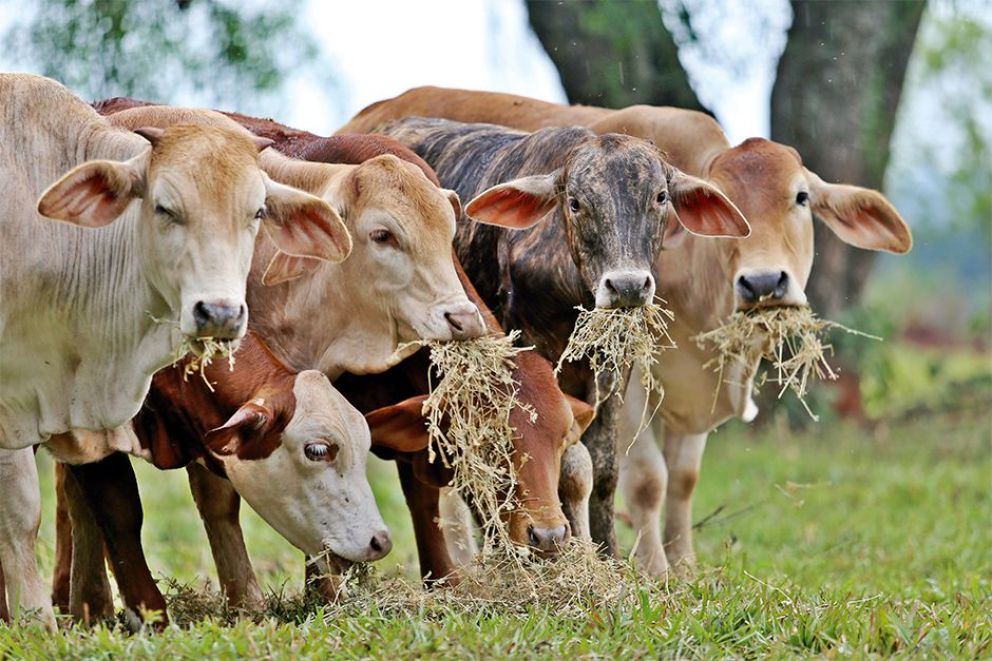 Producing your own fodder is key to reducing costs. Photos: Natalia Guerrero
"The idea is to wean these calves so that the mother maintains a good body weight so that later she can come into heat more quickly. Approximate weaning will take place in about 70 or 80 days. In general, the calf is weaned around March or April for sale. This is where he will wean earlier. But in general, seven-month-old animals are delivered and they sell well," he said.
In addition to food, Alexis recalled that one thing he takes great care of is access to quality water. "It is something very important, sometimes I think it is more essential than food. You have to ensure that the water is very clean, fresh, it affects the comfort of the animals".
The young breeder said that in addition to the knowledge he had already brought from his family and what he had been able to learn from his time at university in a production-oriented career, he was also constantly looking for material on the Internet.
"I really enjoy reading about cattle farming and I also watch all the videos on YouTube on these topics, almost everything I consume is about cattle farming."
Everything is possible
Carlos Markiewicz (49) is also a cattle rancher from Azara and in a dialogue with El Territorio he said that several alternatives can be offered to improve productivity. Thus, he pointed out that today breeding is possible and profitable thanks to the domestic market that demands food. He illustrated that in his case he has constant consultations for the sale of animals, since the meat has an assured demand in the consumption of the Azara region. And on that, he also highlighted the improvement in the quality of the food offered.
"There are thousands of things that can be done in animal husbandry, what is missing is accessible financing for the producer," he said, showing the management of his 200-hectare field.
Carlos said he was aiming to fatten steers around two and a half years old to sell to local refrigerators. "All I sell is meat for the local market, fortunately today, despite the economic difficulties, there is a demand for food. 15 years ago, consumption was low and it was much more difficult to sell the animals," he recalls.
The producer has a herd of around 200 head and aims to multiply the fodder options to expand its offer.
"My goal is to make something sustainable, to add quality, little by little according to my possibilities. Besides cattle, I have some yerba mate and some eucalyptus. Now what I have in mind is to make a pond to start making drip irrigation assisted fodder. I also have standing hay and it was used to feed the cows in winter, I remove it with a scythe," he explains.
He related that with the support of machines, production can be greatly increased because obtaining food is easier.
"With artificial irrigation, I will surely be able to increase production considerably. With what I have done now, I am sure that I have greatly improved the productivity that the field had in my grandfather's time. Before he there were no trees, no fodder was produced. Now, little by little, everything has improved. What has improved the most is undoubtedly the quality of the meat which is produced, now it is very tender and there are no differences with other regions," he said.
He pointed out that there are many alternatives to generate more food in the mission land. "A lot more could be planted here with artificial irrigation, the problem is to produce food, but always aiming for this to be a sustainable farm. This farm has been producing for 100 years and if it continues to be maintained, it will will always continue like this.
He considers, in his opinion, that it would be very important to guarantee access to irrigation to expand production possibilities.
"I saw that there is a complete solar irrigation kit that is worth around $5,000. It's a lot of money, but it's not that much if you think of all that this team allows you to do. It would be nice if you could access some of the international credits that are on offer to generate carbon bonds or something similar so people can take better care of their land. It would be an incentive for producers to protect the trees and forests on their farms," he suggested.
Carlos said he lives in Azara with his wife and added that he always tries to share useful knowledge that can be useful to another producer.
"I'm very curious and always trying to learn. I had the chance to go to study in Buenos Aires, I found a good job and then I was able to come back and invest in the family farm. I have been here for 15 years and when I started the farm I had been abandoned for about 20 years. I still have a long way to go but something is already happening and it pays off for me," he recalls.
He added that with Azara's group of producers, he tries to share his experiences. And that despite the limits, in general, farmers have an interest in progressing.
"Whenever I can, I share what I'm doing on my Facebook. Here we go into all areas, we copy each other a lot and people want to improve what they do. In particular, a lot of what I do, I do to see what results I get. I try to try alternatives and I am also very concerned about maintaining the environment and the native trees," he summarized.
function toogleSeachBar() { if ($('#searchBar').is(":visible")) { hideSearchBar(); } else { showSearchBar(); } } function showSearchBar() { $('#searchBar').show(); $('#menu, .header-scrolled-container, .header-scrolled-container2').hide(); } function hideSearchBar() { $('#searchBar').hide(); $('#menu, .header-scrolled-container, .header-scrolled-container2').show(); }
$(document).ready(function () {
setTimeout(() => { window.fbAsyncInit = function () { FB.init({ appId: '345424459172777', autoLogAppEvents: true, xfbml: true, version: 'v8.0' }); };
(function (d, s, id) { var js, fjs = d.getElementsByTagName(s)[0]; if (d.getElementById(id)) { return; } js = d.createElement(s); js.id = id; js.src = "https://connect.facebook.net/es_LA/sdk.js"; fjs.parentNode.insertBefore(js, fjs); }(document, 'script', 'facebook-jssdk')); }, 3000);
});